June stats have arrived! So here is your update and some thoughts on them! May was busier than June as is traditional in the real estate markets in Vancouver. This is usually caused from the summer slowdown with kids being out of school, families taking vacations, realtors taking vacations and frankly people are just more thinking about summer fun, over crunching numbers…Listings from May to June have increased 1.9% (making for 7.2 Months of Inventory) with the benchmark price dropping to below 1 million for the first time in a LONG time. This is of course a general, overall approach as there are "micro-markets" that are not following the average along with different products (houses, to apartments to townhome/condo) which may deviate from the overall average. If you would like a more targeted analysis please don't hesitate to email me at
haze-hartwig@vancouverrentit.com
or join us on our Facebook page at
http://www.facebook.com/HazeRealty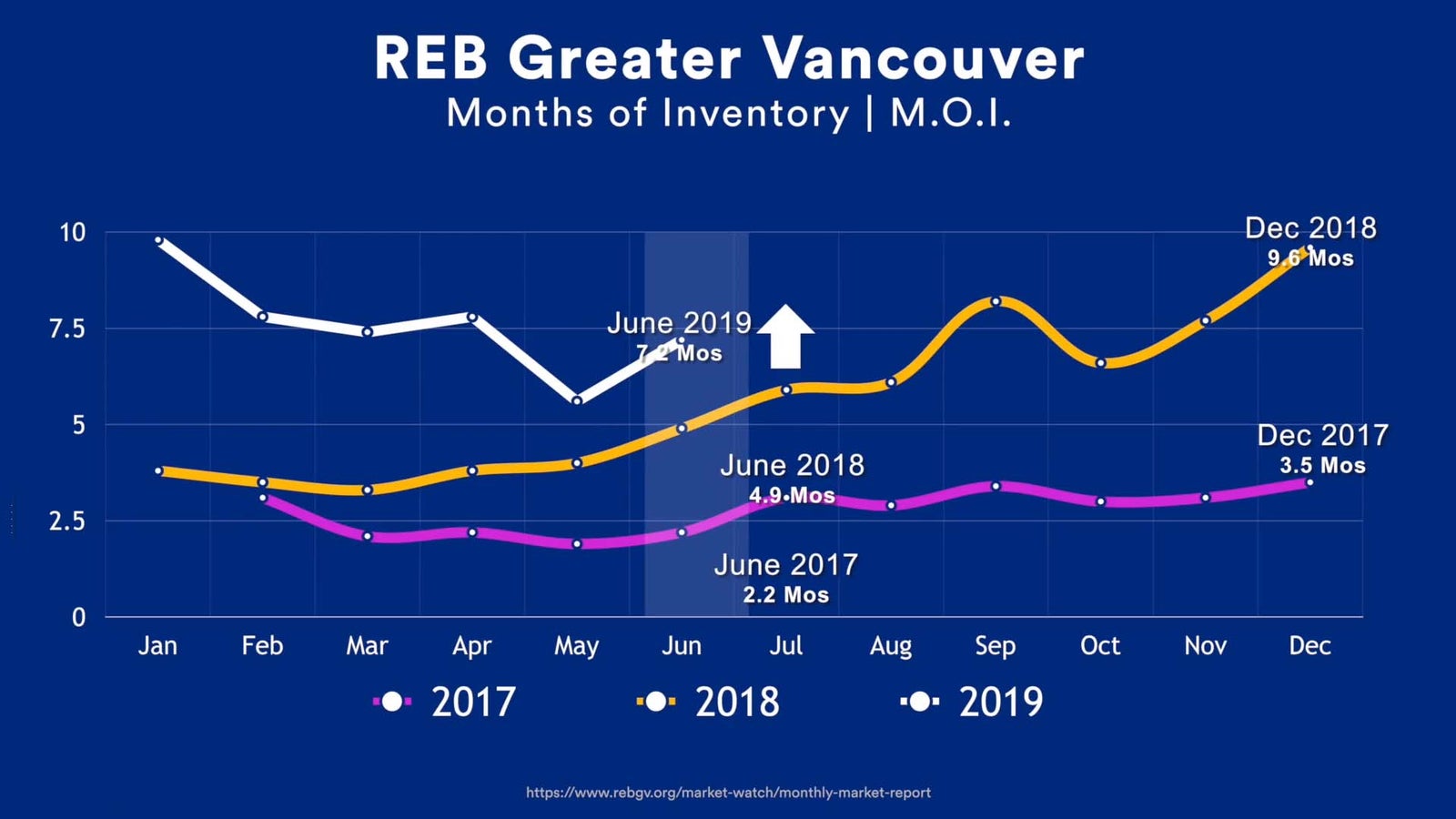 It is a point of interest that we are at the half way mark of this year (HOW TIME FLIES!); in 2018 over half of sales (58%) occurred in the first half of the year. Now you may be wondering why I am bringing that up… Generally history repeats itself; so if sales were down in the second half of the year last year, they likely will be this year too. Combining more listings on the market with a trend of softening prices and possibly less sales, one could assume that prices may still have some softening left to do. We currently have 7.2 months of inventory, which is a load compared to a couple of years ago in 2017 when we were sitting at only 2.2 M.O.I and the market was moving at a breakneck pace. Higher months of inventory is usually an indication of a softening of prices as the market is also governed by supply and demand. 
What does this all mean?

For buyers
: Homes are taking longer to sell as many sellers are still living in the past and hoping to get those inflated numbers for their home. This is a good time for those that have wanted to get into the market. The best current move would be to try an offer as opposed to trying to time the "bottom" of the market as once that trigger is hit, the prices will rise and you will lose some of your negotiating power. Things are moving slower so this is a much kinder market for those that are first-timers too, as there is now time for inspections, comparisons, second looks, etc.
For sellers
: The party is over and gone are the days of throwing up a huge price and having a good likely-hood of someone just buying to buy.
This doesn't mean that everything is wrecked.
What this does mean is that pricing has to be sharp and planned. The average days on market (attached and detached combined) is currently sitting at 41 days. This means that since the home will be on the market more than 24 hours, pricing it AHEAD of the market is what must be done in order to avoid "chasing". This time to sell is best for those that are planning to up-size as in very basic terms; would you rather receive 2% of $100,000 or 2% of $200,000? If you have a lot of equity built in your home, this might be a good time to buy investment property as well. As stated earlier in this article, this is an overview of Greater Vancouver and if you need a more concise analysis please don't hesitate to reach out and get the information that is suited to you needs at:
Email
–
haze-hartwig@coldwellbanker.ca
Facebook
–
http://www.facebook.com/HazeRealty
IG
- @HazeRealtyOr just give a call/text to
604-522-4777
! Whoa old school!