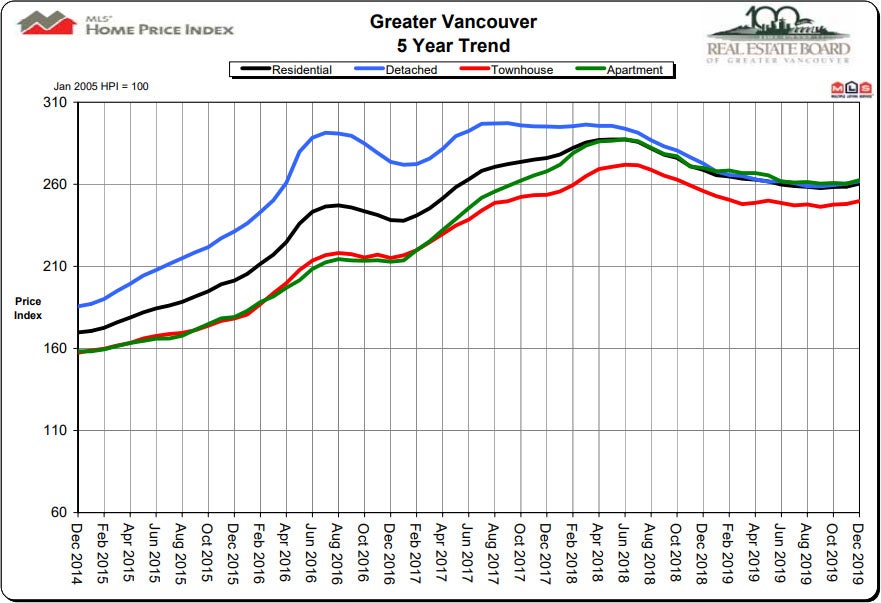 The stats for December have come out and are showing some interesting trends taking hold… There were 1,588 newly listed homes (Apartment, Townhouse and House) in December which is a whopping 46.8% decrease from the number of homes that were listed the month before in November.  The total number of homes listed on the MLS dropped 20.1% from November to December… For those that are keeping score:
We have less homes that entered the market from November to December and less total homes on the market between the same period.
 Using basic supply and demand the outcome would likely be some pressure on prices upwards correct? This has held true:Detached Homes (Houses) have seen a
0.6% increase
in Greater VancouverAttached Homes (Townhomes):  have seen a
0.7% increase
in Greater VancouverApartments: have seen a
0.8% increase
in Greater Vancouver So what does this all mean? There seems to be indication that prices will be possibly rising in the relatively near future. We have all see the newspapers, internet gurus and know-it-all-uncles going off about the recent tax assessments; but try not to drink the Kool-aid.
They were done in July of LAST YEAR
. Which means they have very little to do with the current market price of homes. Open houses were busy in many areas especially in the apartments. One of my colleagues had 57 showings and 7 offers on their listing, this means that there are for sure at least 6 buyers that are ready and prepared to pull the trigger on purchasing a home. Traditionally the market picks up in frequency of transactions in the spring, so if you are thinking of putting your home on the market for spring, you may want to consider getting that going now as opposed to in a couple of months so that you are ready for the traditional rush of buyers that start searching. If you are currently looking to purchase, as you can see from the modest increases in prices from month to month the bottom of the market might have been reached so waiting "until the market improves" might not be the best idea on the pocketbook.  Time will tell though.  Stats can change between area and product (IE. what kind of home you are handling) so if you would like a more targeted inquiry for your use don't hesitate to contact me and I will be happy to talk some shop and help assess the situation for your personal needs.