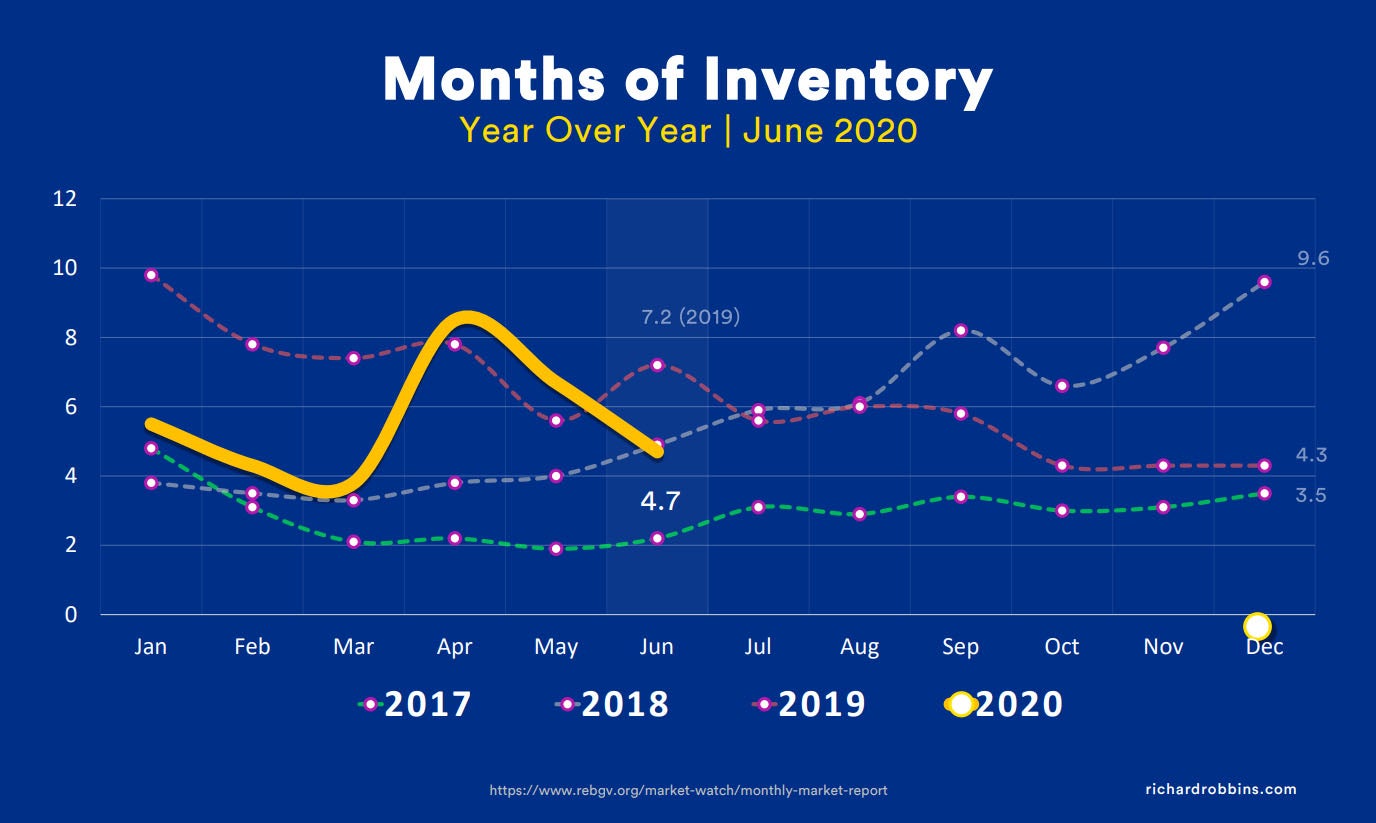 The stats have been released for June and it appears that as people are going back to work the market is recovering very quickly and strengthening. To help support this in June there was a
64.5% increase in the amount of transactions
in the Greater Vancouver real estate market. There was the obvious lull in the market as Covid-19 took hold and stopped the sales side of real estate dead almost overnight… That being said even with the pandemic we are still up 3.9% in sales transactions in the first 2 quarters form that of 2019. 

With multiple offers becoming more and more common place in our current market, it is appearing that there are more buyers now entering the market with low interest rate pre-approvals in hand as they return back to work. Prices seem to have remained about the same and have not swayed in either direction; with the benchmark price decreasing only 0.3% from May 2019 for all property types combined and a breakdown of:

Detached: 0.5 % increase from May 2020
Townhouse: 0.2% decrease from May 2020
Apartment: 0.8% decrease from May 2020
As more buyers have been steadily entering the market on the search for a home, the Months Of Inventory (M.O.I.) have dropped 30%. The reason why looking at months of inventory is an important factor to take into account is due to the premise of supply and demand (for some reason some think this concept is not a factor in real estate… It is.)

General belief for M.O.I. is as follows:
4 – 6 Months = Balanced Market
Above 6 Months = Buyer's Market
Below 4 = Seller's Market

As of June 2020 we are sitting at 4.7 Months Of Inventory, however the trend line seems to be decreasing as we shot up to 8.7 in April (right after Covid -19 hit in March), then dropped to 6.7 in May and 4.7 in June. If this trend continues we will end up in a Seller's market and traditionally less sellers put their home on the market in the summer months. That being said 2020 has been about as far away from traditional as you can get. 
So where do we go from here? I am in the camp that we are not all screwed and that the market is in fact recovering. There is some speculation of a second wave of Covid-19 to hit in September; however BC has handled the first one quite well and has prepared pretty well. People are growing more comfortable with "the new norm" until there is a vaccine or some other way of making it through. With a second wave, because new methods and the use of various technologies, it is likely that real estate will keep on pushing through and will not be as affected by a second wave as it was the first round. The calls of fire and brimstone are looking more and more unfounded in the real estate market; things may change but for the time being there isn't much to support otherwise.
The stats above are broad overviews and do change from one geographical location to another and from the various types of home contained in each area. If you would like a more targeted analysis for your particular area or needs, please feel free to contact me via phone at 604-522-4777 or e-mail directly at haze-hartwig@coldwellbanker.ca or join us at our Facebook Page (www.facebook.com/HazeRealty)
Source: Real Estate Board of Greater Vancouver – June 2020 Stats (http://members.rebgv.org/news/REBGV-Stats-Pkg-June-2020.pdf)