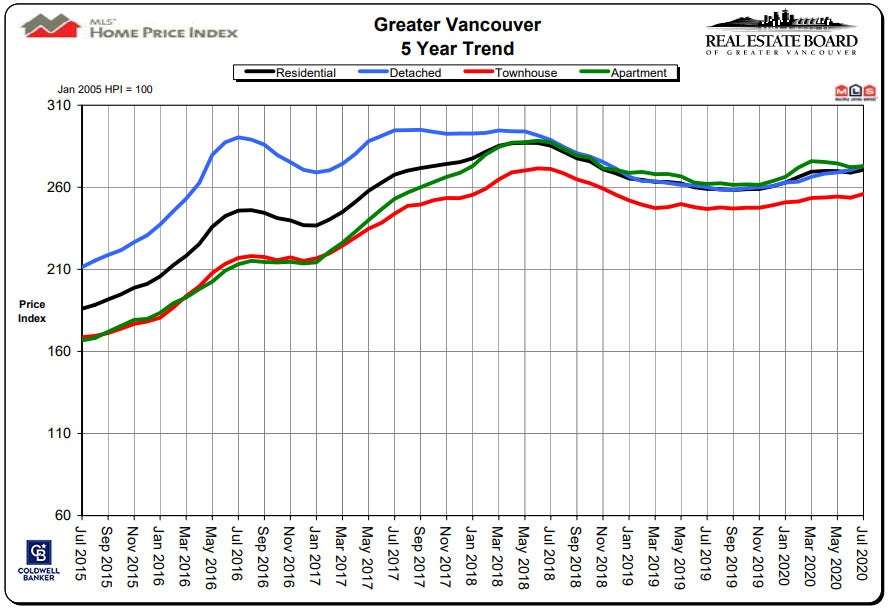 The monthly stats have come out for the month of July and trends seem to keep pushing up. July saw a 9.4% increase in sales transactions from the 10 year average for the month and a 28% increase in sales from June of 2020. 

Pent up activity from the traditionally active spring market is one of the major driving factors for this uptick and abnormally busy summer, coupled with extremely low interest rates has increased the competition in the real estate market as people adjust to the newly implemented protocols for doing business safely and the "new norm".

New listings have continued to hit the market and are up 2.8% from June with a total inventory up 5.8% from June 2020 which created more interest in the market and thus raised the Sales-to-active ratio to 25.9% combined with a break down as follows:

- 25.1% Detached homes (houses)
- 31.1% Attached homes (townhouses, duplex, etc.)
- 24.7% Condo (apartments)

Analysts state that downward pressure on market prices occurs when the ratio is below 12% for a sustained period and increase prices at a 20% sales-to-active ration is sustained over several months.
Currently pricing has remained relatively stable with only a modest increase of under 1% over the past month (as has been happening over the past 3 months)

So where do we go from here? Well the numbers have been showing a great recovery since Covid-19 fell and threw the world as we knew it into upheaval… HOWEVER, September 30th is slated to be the end of the mortgage deferral programs for most banks. How will this affect the market? Who knows? We may see multiple homes that may hit the market as there will be no more deferral option and thus forcing an owner to sell; this may also hit in the rental market as on Sept 1st the freeze on 10 Day Notice (non-payment of rent or utilities) will also be lifting, which may cause a lot of landlords to sell their investment as they may have taken a large hit form a tenant that is not able to pay rent. A sudden influx of homes for sale or that NEED to sell may cause prices to soften…. On the flip side Covid19 numbers have been rising week over week in BC and we may see another lock down happen or all these programs extend due to a second wave. There is a term "unprecedented times" that has been use so much that I am surprised people don 't have tattoos of it, but we are in fact in them. 
 
If you have any real estate questions, thoughts or quandaries feel free to contact via E-mail at:
haze-hartwig@coldwellbanker.ca, via voice at 604-522-4777 or visit us at our Facebook page: http://www.facebook.com/hazerealty