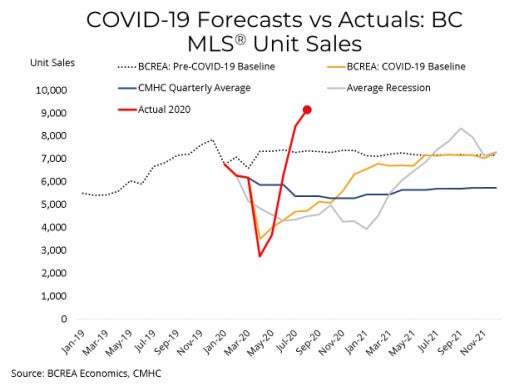 The spring and summer have now passed and the children have returned to school. This is typically the time that the markets pick up after the usual summer lull. This however has not been a typical year (which is also easily an understatement!). The buying and selling transactions were actually
HIGHER
than the historical averages and this could be caused by the usual spring market simply holding off until the summer when the province and society adjusted to "the new norm".
Keeping that it appears the market has simply shifted down; it is quite uncertain what fall (a typically high transaction time) will bring. Could the market keep rising in transactions and price or will it cool down as people settle in? Will a second wave come and send everything back into a lock down? We have never been here before so who really knows?
Through the month of July there was a 2.3% decrease in newly listed homes and a 6% increase of the supply of homes. This means that there were fewer homes being listed for sale and that there is a supply that is remaining on the market. Could this be a sign of this being the peak for prices? This could be from seller's expectations being too high for the market and thus start causing some reductions in prices? Time will tell.
The sales to active ratio is currently sitting at:
23.7% Detached
30.5% Townhomes
21.6% Apartments
Typically analysts state that downward pressure on prices occurred when the listings to sales ratio dips for a prolonged period of time below 12% and upward pressure on prices is at 20% or higher… We have seen it being above 20% for the past few months.
Prices have seen a modest increase across the board yet again all at 1% or less and break down as follows:
Detached: 0.7%
Townhouse: 1.0%
Apartment: 0.5%
It is of note that the increases in prices has been less than the month previous and the listings to sales ratios have lowered form that of July. Perhaps the market is balancing out/slowing down and may continue to slow as the children have returned to school and there is uncertainty in if there will be a 2nd wave; along with how large and what effects will be felt should one hit.
As this recession plays out we are seeing that this one is based on health and not economics. This is making it very hard to predict with any accuracy as to what the future may hold as there is really not much to base it on historically.
If you have any real estate questions, thoughts or quandaries feel free to contact via E-mail at:
haze-hartwig@coldwellbanker.ca, via voice at 604-522-4777 or visit us at our Facebook page: http://www.facebook.com/hazerealty