Residential home sales in the Greater Vancouver region totaled 4,908 in April 2021. This is a 14% decrease from the 5,708 that were sold in March of this year. The sales in April 2021 were 56.2% about the 10 year average for April and the highest total ever recorded for April.

There were a total of 7,938 homes newly listed on the MLS in Metro Vancouver in April 2021 (apartments, townhomes and houses combined); which is a 4.2% decrease from March 2021.
"
While homes are now being listed at record levels, more supply is needed to meet today's demand and help market conditions achieve greater balance
" - Keith Stewart, REBGV economist
The total number of homes that at currently listed for sale across Metro Vancouver is currently 10,245. This is a 9.1% increase from April 2020 and a 12% increase from March of this year. The listing to active ratios broken down by type is as follows:
Detached Home: 37.4%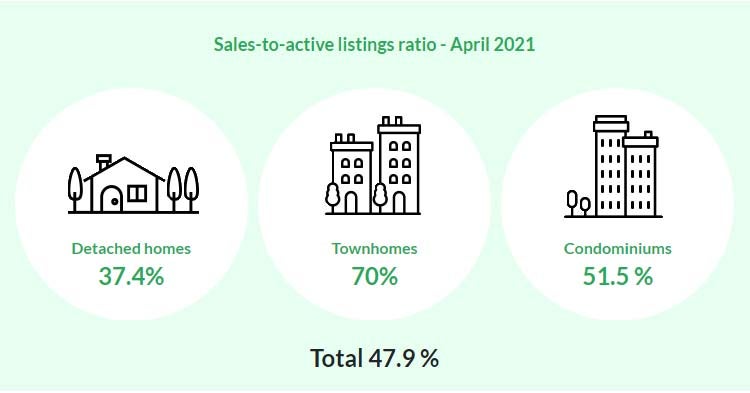 Townhomes: 70%
Apartment/condo: 51.5%
Analysts generally states that downward pressure on home prices occurs when the listing-to-active ratio moves below 12% for a sustained period, while prices of homes will often have upward pressure when it surpasses 20% over a sustained period.
The benchmark price for detached homes currently sits at $1,755,500 which is a 1.9% increase from March 2021. Apartments/condos mirrored the increase at 1.9% and currently has a benchmark price of $729,600. Townhomes have reached a benchmark price of $900,900 and represents a 3.3% increase from that of March 2021.
It appears that more homes are coming on the market, which is adding to the supply and may have a cooling effect. There is also a large feeling of "buyer burnout" in which they are fed up with the marketing practice of deliberately underpricing a home to cause a multiple offer (loving known in some circles as "Donkey Pricing") and are not willing to participate. This is causing more sellers to price their home at a more reasonable asking price. Traditionally the market also slows in the summer months as students are out of school and people leave for vacation… With Covid restrictions in place we will see if this occurs still, however with the roll out of vaccinations, many believe that as soon as travel is permitted we will see a sudden and heavy lull in market activity as there is pent up demand to travel.
If you would like a more targeted analysis for your particular area or needs, please feel free to contact me via phone at 604-522-4777 or e-mail directly at
haze-hartwig@coldwellbanker.ca
or join us at our Facebook Page (
www.facebook.com/HazeRealty
)
(Source:
http://members.rebgv.org/news/REBGV-Stats-Pkg-April-2021.pdf
)