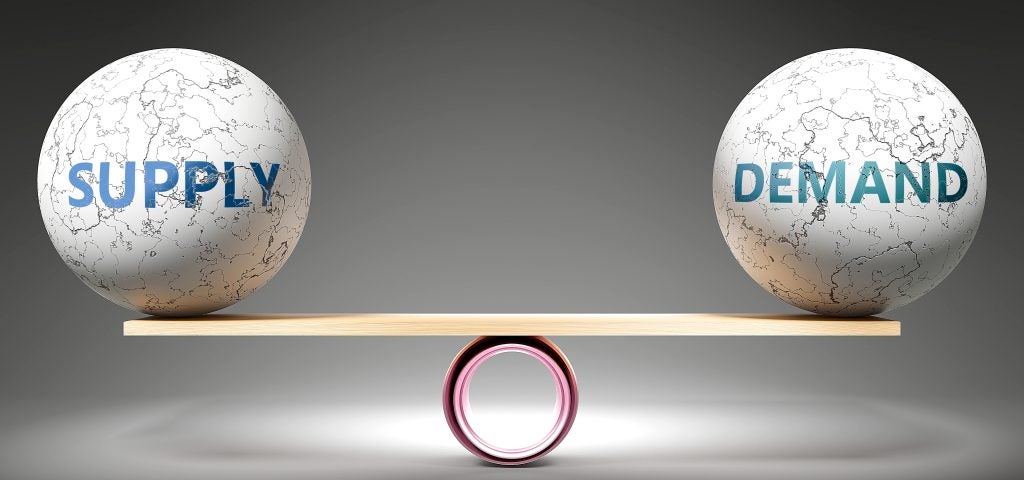 While the sales activity has remained above the historical average, the supply of homes has continued to drop to levels that haven't been seen in 3 years.
"
Home sale activity continues to outpace what's typical for this time of year and the pool of homes available for sale is in decline. This dynamic between supply and demand is causing home prices to continue to edge up across the region
," - Keith Stewart, REBGV economist

The Real Estate Board of Greater Vancouver reported that total sales were 3,494 in October of this year; which is a 11% increase from September 2021; with last month's sales rising to 22.4% above the 10-Year sales average for October.

In October 2021 there were 4,049 homes newly listed for sale across all types of home (detached, attached and apartment) in Metro Vancouver. This represents a 21.7% decrease in homes that were newly listed in September of this year.

The total homes that are currently listed on the MLS system in Metro Vancouver is 8,034. This is a 13% decrease to that of Sept 2021 and a 35.3% decrease from October of last year.
"
Rising fixed mortgage rates should eventually help ease demand, but for now sales remain strong and buyers with rate holds will remain motivated to find a property for the rest of the year
" - Keith Stewart, REBGV economist

For all property types combined the ratio for sales-to-active in October sits at 43.5%; this is broke down as follows:

Detached Homes: 33.6%
Townhomes: 64.4%
Apartments: 46.7%

Analysts generally states that downward pressure on home prices occurs when the sales-to-active ratio moves below 12% for a sustained period, while prices of homes will often have upward pressure when it surpasses 20% over a sustained period.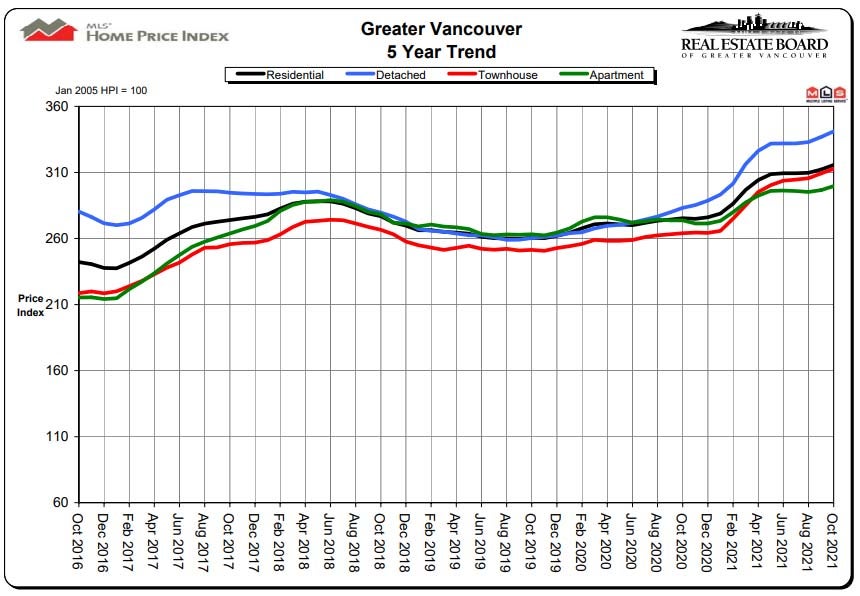 There were 1,090 detached homes sold in 2021 and resulted in a benchmark price of $1,850,000, which is a 1.2% increase to that of September 2021.
Sales of attached homes in October 2021 totaled 603 and represent a 1.2% increase for the benchmark price from September of this year. The benchmark price for attached homes is $975,000.
Sales of apartments for October 2021 totaled 1,801 and held a benchmark price of $746,000. This is a 1.1% increase from September of this year.
The Take Away:
Supply. Demand. Traditionally the market slows in activity around the winter months, however thus far this year there has been a steady and rising amount of sales and a decrease in the amount of homes that are listed. As there is less on the market to choose from, the purchasers are in a higher competition with each other to secure part of the limited supply. For there to be any shift from the pattern of prices rising and rising something must change; either there needs to be a sudden flood of homes that are on the market or buying power will have to decrease (IE. interest rates go up).
One of the common statements from those that are debating on selling is "Where will I go? Everything is much more expensive"; this in turn is part of the reasoning behind not putting their home on the market and thus leads to less homes on the market for sale.
Traditionally more homes come onto the market in the spring months and there is chatter that the fixed term mortgage rates may see a slight increase in 2022. This MAY help flatten out the prices. I of course have no crystal ball, but ultimately until something changes we will see this pattern of continually raising prices. The most likely change will be the interest rate.
If you would like a more targeted analysis for your particular area or needs, please feel free to contact me via phone at 604-522-4777 or e-mail directly at
haze-hartwig@coldwellbanker.ca
or join us at our Facebook Page (
www.facebook.com/HazeRealty
)
(Source: http://members.rebgv.org/news/REBGV-Stats-Pkg-October-2021.pdf)