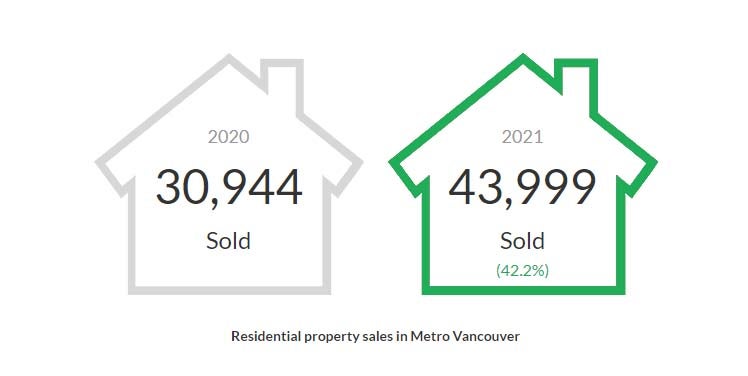 Reports from The Real Estate Board of Greater Vancouver have shown that the region totaled 43,999 sales for 2021. This is a 42.2% increase in sales from 2020 and a 4% increase from the previous ALL-TIME record that was set in 2015 at 42,326 for the year.
"
Home has been a focus for residents throughout the pandemic. With low interest rates, increased household savings, more flexible work arrangements, and higher home prices than ever before, Metro Vancouverites, in record numbers, are assessing their housing needs and options
," says Keith Stewart, REBGV economist.
Currently the total number of homes listed on the MLS sits at 5,236 which is a 26.7% decrease from November 2021 (7,144 homes) and the benchmark price for all residential properties combined is $1,230,200. This is an increase of 17.3% from that of December last year. Both detached and townhouses increased their benchmark price by 22% last year, with apartments increasing 12.8% from December 2020.
"
While steady, home listing activity didn't keep pace with the record demand we saw throughout 2021. This imbalance caused residential home prices to rise over the past 12 months,
" Stewart said.

Across the Greater Vancouver region, Maple Ridge felt the largest increase in the benchmark price at 34.7% with Pitt Meadows in second at 29.8% and Whistler taking 3rd place with a 27.8% increase.
"
We begin 2022 with just over 5,000 homes for sale across the region. This is the lowest level we've seen in more than 30 years," Stewart said. "With demand at record levels, residents shouldn't expect home price growth to relent until there's a more adequate supply of housing available to purchase.
"
Summary for December 2021
Sales in the region were reports by the REBGV totaling 2,688 for Dec 2021. This is a 13.1% decrease from December of 2020 and a 21.6% decrease from that of November 2021.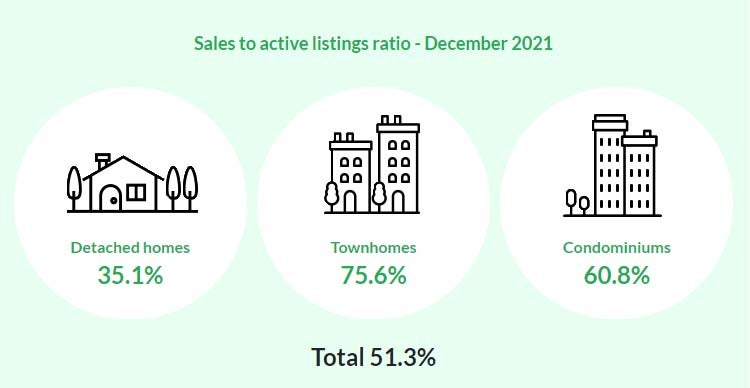 The listings-to-sales ratio for all property types combined in December is 51.3% and is broken down as follows:
Detached homes: 35.1%
Townhomes: 75.6%
Apartments: 60.8%

Analysts generally states that downward pressure on home prices occurs when the sales-to-active ratio moves below 12% for a sustained period, while prices of homes will often have upward pressure when it surpasses 20% over a sustained period.

The total number of sales for detached homes reached a total of 794 for December 2021. The benchmark price is $1,910,200 and is a 2.1% increase from that of November 2021 and a 22% increase from December 2020.
Townhome sales for December 2021 totaled 430. The benchmark price of an attached home is $1,004,900 which is a 27.5% decrease from the 593 sales recorded in December 2020 and a 1.5% increase from November of last year.

The sales of apartments totaled 1,464 in December of 2021. This is a 1.4% decrease from the total sold in December 2020. The benchmark price of $761,800 was reached for an apartment. This is a 1.2% increase compared to November 2021 and a 12.8% increase from December 2020.
The Takeaway:
As it was touched on in the yearend review by Keith Stewart above… There is substantially low inventory in the market right now. This is in turn causing fierce competition for purchasing a home among the buyers and keeping the market firmly planted in the seller's advantage. Greater Vancouver has gone through 2 years of a pandemic (hopefully this mess is behind us all soon!) and yet the market still increases. There are many people calling for a "crash" or even a market correction and banking on it coming when the fixed rate interest rises; however, trying to time the market is mostly luck and most of us don't have the most amazing luck.

We will all hear people screaming from the sidelines about how homeownership is "impossible" and/or "stupid"… But we have to remember that those same people were saying that in 2020 as well, when the market as a whole increased in value 17.3% from 2020 to 2021. Would it be a good bet to think that the market (should this crash/correction occur) is going to drop 17.3%? That is unlikely. This means that all the people that ignored the naysayers have enjoyed their home (and investment) go up in price.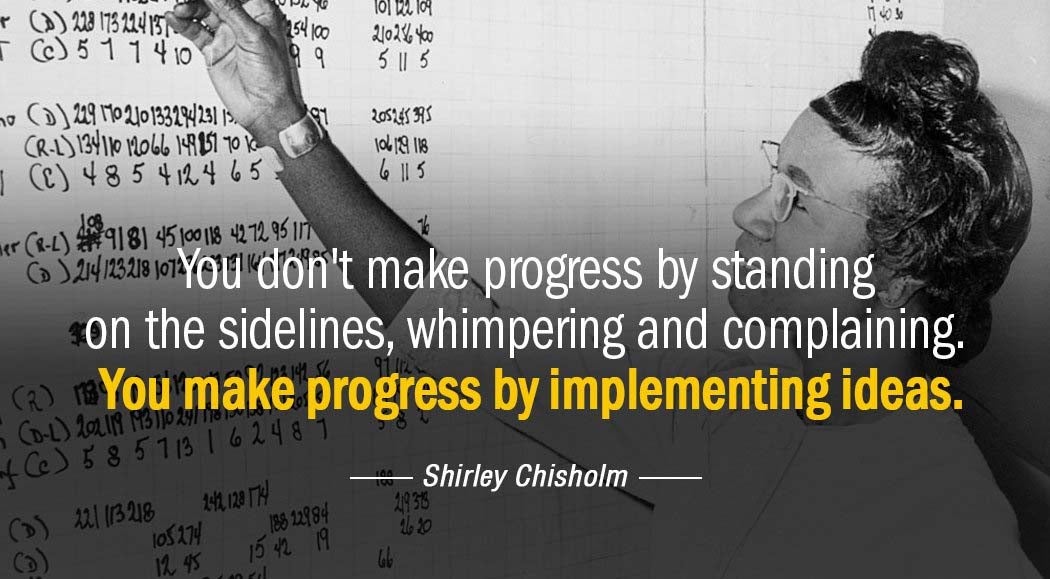 Ultimately if you are thinking to purchase or have a desire to own your home, you should go for it. Not only for an investment purpose, but for being comfortable that the only way you will have to move is if you decide to do that; over a landlord deciding to take that 17.3% (or more) profit and cash out. Real estate has started to only be viewed as a stock... It is a home. YOUR home. Where you can build memories, security and while it will likely make you money over time. Sight shouldn't be lost on what it's main purposes are. 
If you would like a more targeted analysis for your particular area or needs, please feel free to contact me via phone at 604-522-4777 or e-mail directly at
haze-hartwig@coldwellbanker.ca
or join us at our Facebook Page (
www.facebook.com/HazeRealty
)
(Source:
http://members.rebgv.org/news/REBGV-Stats-Pkg-December-2021.pdf
)