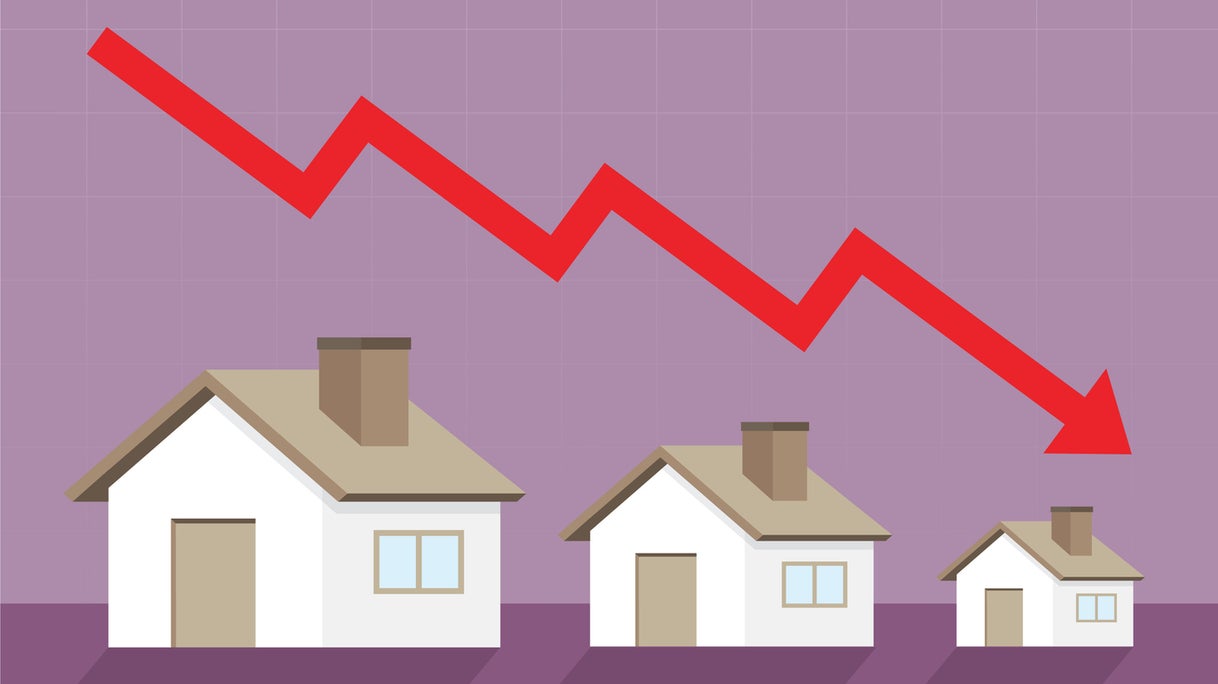 While traditionally a quiet month for activity in the market, November's sales and listing activity has been below the long-term averages that are usually observed.

Home sales for Greater Vancouver reached a total of 1,614 doe November of this year; which is a 52.9% decrease from November of last year (3,428) and a 15.2% decrease from October 2022.

The number of sales for November 2022 was 36.9% lower than the 10-year average for November.
"
With the most recent core inflation metrics showing a stubborn reluctance to respond significantly to the furious pace of rate increases, the Bank of Canada may choose to act more forcefully to bring inflation back toward target levels."
Andrew Lis, REBGV's director, economics and data analytics said.

  
November 2022 saw 3,055 homes newly listed on the MLS across all types (detached, attached & apartment) across Metro Vancouver. This is a 24.2% decrease in comparison to October of this year and a 22.9% decrease from November 2021.

Currently there is a total of 9,179 home listed on the MLS system which is a 28.5% increase compared to November 2021 and a 6.8% decrease from October 2022.
"Heading into 2023, the market continues the trend of shifting toward historical averages and typical seasonal norms,"
Lis said.
"Whether these trends continue will depend on looming economic factors and forthcoming housing policy measures on the horizon, which hold the potential to reignite uncertainty in our market. With that said, from a long-term structural standpoint, the current pace of listings and available inventory remain relatively tight when considered against a backdrop of continued in-migration to the province. With the recently announced increase in federal immigration targets, the state of available supply in our market remains one demand surge away from renewed price escalation, despite the inflationary environment and elevated mortgage rates."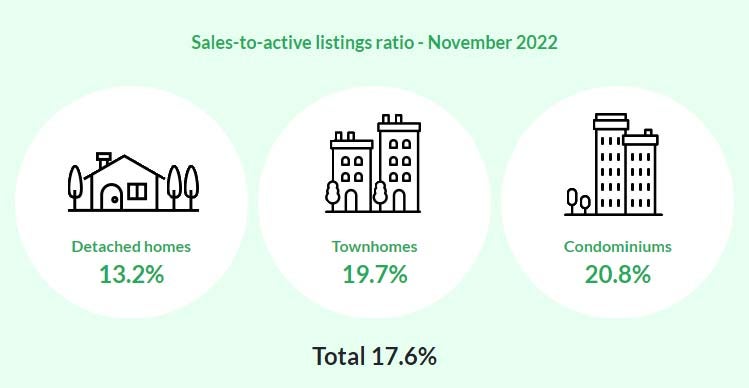 Currently the sale-to-active listing rations is 17.6% for November 2022 and break down by property type as follows:
Detached Homes: 13.2%
Townhomes: 19.7%
Apartments 20.8%
Analysts generally state that downward pressure on home prices occurs when the sales-to-active ratio moves below 12% for a sustained period, while prices of homes will often have upward pressure when it surpasses 20% over a sustained period.
The benchmark price for all residential types combined is $1,131,600. This is a 0.6% decrease from November of last year, a 1.5% decrease from October 2022 and a 10.2% decrease from November 2021.
There were a total of 486 detached homes sold in November 2022. This is a 50.8% decrease from November 2021. The benchmark price for a detached home is $1,856,800 which is a 1.9% decrease from October 2022 and a 1.7% decrease from November of last year.
281 attached home sales occurred in November 2022. This is a 54.2% decrease from the number recorded in November 2021. The benchmark price for attached homes sits at $1,027,900 which represents a 1.5% decrease from October of this year and a 2.7% increase from November 2021
Apartment sales reached a total of 847 for November 2022. This is a 53.7% decrease from November 2021. The benchmark price for an apartment is $720,500. This is a 0.9% decrease from October 2022 and a 3.5% increase from the benchmark price in November 2021.
THE TAKE AWAY:
The residential market has slow quite drastically as the Bank of Canada (BoC) continues to raise the interest rates at every given opportunity in an effort to reduce the inflation rate. This in turn has reduced the purchasing power of most buyers and thus slows down the number of transactions that are occurring. The 1-2 punch of less purchasing power and less transactions will create (and has) downward pressure on prices as sellers will have to adjust their pricing structure to accommodate the current state of the market.
 
When any change in the sales market occurs, many stop what they are doing and wait to see the effect. This has caused a lot of would be purchasers to return to the sidelines and "see what happens", which brings additional slowing to the sales market. This also brings more competition in the rental market as typically as one market goes down (sales in this case) the other market goes up (rental market) and vice versa; which leads to the discussion about Bill-44 which has done away with rental restrictions in all strata buildings.

This was brought in to help add more properties that are available for rent in an effort to lower the rental pricing. This is a step in the right direction to help lower the rental rates, HOWEVER, these newly rentable homes will not come online in a sudden flood and will get filled as they become available. It is unlikely that we will see a significant drop in the price of rent.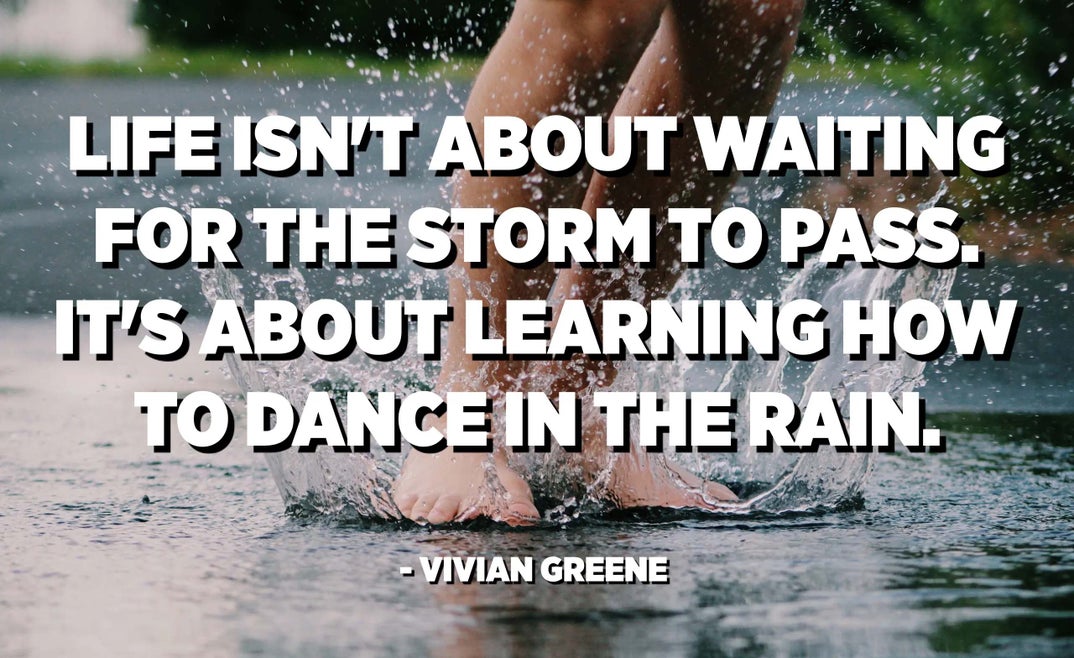 What does this mean for the sales market? These new rules may breathe some new life into older buildings that were not rentable before as it opens up a whole new segment of the market (investors) to the property. This may in turn raise the price of the older, larger units as with the homes being slightly less expensive than they were previously and being typically larger that newer builds. This combined with rents being higher may make for a solid investment for a savvy investor, so long as they can weather the storm of the higher interest rates.
These typically slower months of activity could be the market slowdown that many were waiting for to get into the market (if they still can due to the mortgage rates) or to purchase an investment property and yield the benefits later as long as the investor can handle the current rates as there is a belief that the rates may decrease later in 2023. No one has a crystal ball though so there are no guarantees.
If you would like a more targeted analysis for your particular area or needs, please feel free to contact me via phone at 604-522-4777 or e-mail directly at:
haze@hazerealty.com
or join us at our Facebook Page (
www.facebook.com/HazeRealty
)
(Source: https://membernews.rebgv.org/content/dam/rebgv-blog/PDFs/REBGV-Stats-Pkg-Nov-2022.pdf)