Metro Vancouver saw a slight increase to the prices, while listings continue to be below the 10-year averages and data shows that transaction numbers have been higher than anticipated this spring while still experiencing elevated borrowing costs.
 
Reports from the Real Estate Board of Greater Vancouver show a total of 2,535 home sales for March 2023. This is a 42.5% decrease from March 2022 and is 28.4% lower than the 10-year average for March.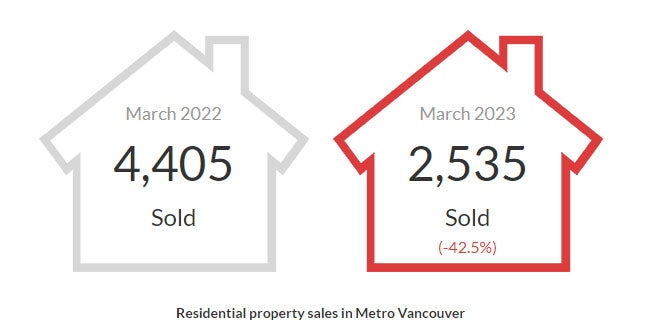 The benchmark price for all homes combined in Metro Vancouver is at $1,143,900; which is a 9.5% decrease from March of last year and a modest 1.8% increase from February of this year.
"On the pricing side, the spring market is already on track to outpace our 2023 forecast, which anticipated modest price increases of about one to two per cent across all product types,"
Andrew Lis, REBGV's director of economics and data analytics said.
"The surprising part of this recent activity is that these price increases are occurring against a backdrop of elevated borrowing costs, below-average sales, and new listing activity that continues to suggest that sellers are awaiting more favorable market conditions."

There were 4,317 newly listed homes across all property types (detached, attached and apartment/condo) newly listed for March 2023. This is a 35.5% decrease from March of last year and 22.3% less than records for the 10-year average.

Currently the total number of homes listed for sale on the MLS is 8,617 which is 8.1% more than March 20222 and 17.3% less than the 10-year average.
The sales-to-active ratio for all types of homes combined sits at 30.7% for March 2023 and is broken down as follows:
Detached Homes: 23.3%
Attached Homes: 36.7%
Apartment/Condo Homes: 34.9%
 
Analysts generally state that downward pressure on home prices occurs when the sales-to-active ratio moves below 12% for a sustained period, while prices of homes will often have upward pressure when it surpasses 20% over a sustained period.
"If home sellers remain on the sidelines, monthly MLS® sales figures will continue to appear lower than historical averages as we move toward summer,"
Lis said.
"But it's important to recognize the chicken-and-egg nature of these statistics. The number of sales in any given month is partially determined by the number of homes that come to market that month, along with the inventory of unsold homes listed in previous months. With fewer homes coming on the market, homes sales will remain lower than we're accustomed to seeing at this point in the year, almost entirely by definition."


The total number of detached homes that sold in March 2023 was 734. This is a 43.6% decrease from March of last year. The benchmark price for detached home reached $1,861,000. This is a 11.2% decrease from March 2022 and a 2.7% from February of 2023.
 
Attached homes reached a total of 466 sold for March 2023. This a 37.3% decrease from the sales attained at the same time last year. The benchmark price for this type of unit is $1,056,400 which represents a 7.8% decrease from March 2022 and a 1.7% increase from February of this year.
Sales of apartment/condos totaled 1,311 for March of this year, which is a 43.2% decrease from March 2022. The benchmark price reached for an apartment unit is $737,400. This is a 4.6% decrease from March 2022 and a 0.7% increase from February 2023.
THE TAKEAWAY:
While it appears that buyers are adapting to the new market, we are still seeing very low inventory. This low inventory and buyers still out there looking and searching will cause (as it has been slightly already) the prices to maintain or to keep increasing. Should we remain at this level and the Bank of Canada lowers their rates, we will likely see a flurry of activity which will in turn cause the prices to shoot right back up.
While there seem to be a lot of sellers waiting for better market conditions, there are some that are taking advantage of the current conditions and selling off some of their investment properties since they are able to collect a tidy profit in most cases due to the lack of inventory. This will cause many tenants to be displaced, which leads to higher rents. Currently there are some homes that are coming up for sale that are in the reasonable range for an investor to get into the market as well, due to the higher rents that are currently being attached to homes... So long as the homes being purchased for investment are vacant.
If you are thinking about making a move in this transitioning market, please feel free to contact me via phone at 604-522-4777 or e-mail directly at:
haze@hazerealty.com
or join us at our Facebook Page (
www.facebook.com/HazeRealty
) and I would be happy to help go over some facts and figures to help you make the most educated decision for you needs.
(Source:
https://members.rebgv.org/news/REBGV-Stats-Pkg-Mar-2023.pdf
)