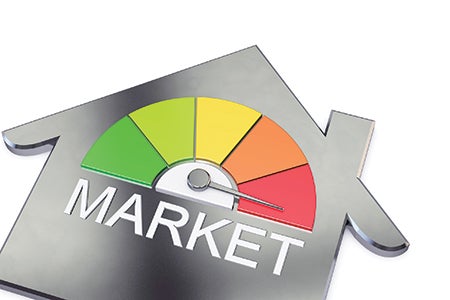 Due to the sheer lack of numbers in listings that remain lower than the typical seasonal norms for Metro Vancouver it has caused the pricing to raise as the number of sales is rising to the same levels of last spring; prior to the 8 interest rate increases that had slowed down the sales activity and reduced purchasers buying power.
Sales reported by the REBGV (Real Estate Board of Greater Vancouver) reached a total of 2,741 for April 2023. This is a 16.5% decrease from the same time last year and is 15.6% less than the 10year average.
"
The fact we are seeing prices rising and sales rebounding this spring tells us home buyers are returning with confidence after a challenging year for our market, with mortgage rates roughly doubling
," Lis said. "
The latest MLS HPI® data show home prices have increased about five per cent year-to-date, which already outpaces our forecast of one to two per cent by year-end. The year is far from over, however, and it remains to be seen if these price increases will be sustained into 2024.
"

For all property types (detached, attached and apartment/condo) there was a total of 4,307 newly listed properties in Metro Vancouver for April of this year. This is a 29.7% reduction from the total that were listed in April of last year and 22% less than the 10-year average.

Currently the total number of homes that are listed on the MLS (Multiple Listing Service) sits at 8,790 which is a 4.2% decrease from April of last year and a 20.9% decrease from the 10-year average.

The sales-to-active ratio for all types of homes combined for April 2023 is 32.7% and breaks down by class as follows:
Detached: 24.4%
Attached: 40.1%
Apartments: 37.4%

 Analysts generally state that downward pressure on home prices occurs when the sales-to-active ratio moves below 12% for a sustained period, while prices of homes will often have upward pressure when it surpasses 20% over a sustained period.
"
When we released our market forecast in January, we were one of the only organizations taking the contrarian view that prices were likely to appreciate in 2023,
" Lis said. "
And what we're seeing unfold so far this year is consistent with our prediction that near record-low inventory levels would create competitive conditions where almost any resurgence in demand would translate to price escalation, despite the elevated borrowing cost environment. At the crux of it, the issue remains a matter of far too little resale supply available relative to the pool of active buyers in our market.
"
Currently the benchmark price for all residential properties in Metro Vancouver is $1,170,000 which is a 7.4% decrease from April last year and a 2.4% increase from March of this year.

The total number of sales of detached homes in April 2023 was 808; which represents a 16.3% decrease from April of last year and the bench mark price for a detached home was $1,915,800. This is an 8.8% decrease from the same time last year and a 2.9% increase from March of this year.
Attached home sales reached a total of 500 for April 2023, which was a 13.5% decrease from April 2022. The benchmark price for attached units was $1,078,400; a 6.1% decrease from April 2022 and a 2.1% increase from March 2023

In April 2023, there were 1,413 apartment homes sold, which is a decline of 16.5% compared to the sales recorded in April 2022. The current benchmark price for an apartment property is $752,300, showing a decrease of 3.1% from April 2022. However, when compared to March 2023, there has been a 2% increase in the benchmark price.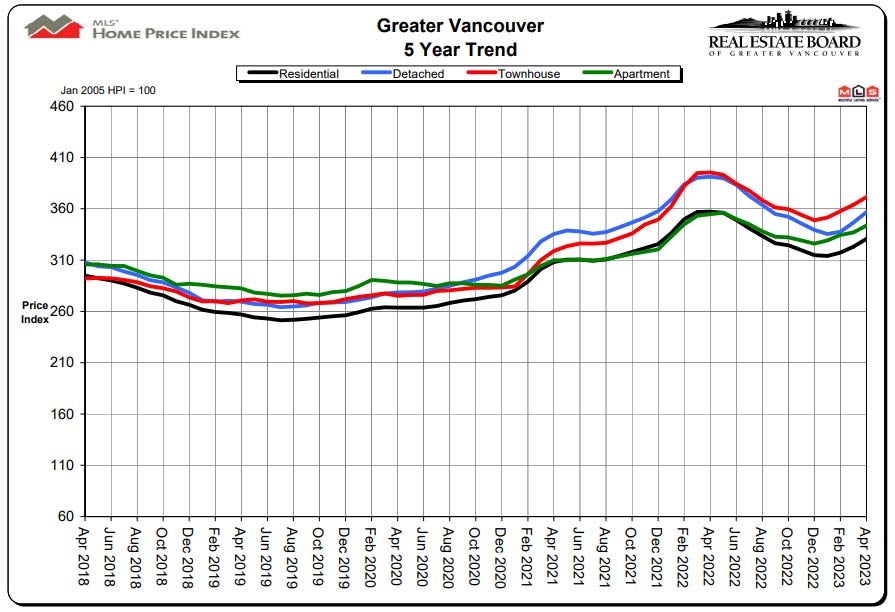 THE TAKE AWAY:
It appears that the bottom of the market has come and gone as purchasers have simply accepted that the interest rates are going to be what they are and if a purchaser wants to own they must handle that fact and move forward. After 8 consecutive interest rate hikes the first time the BoC (Bank of Canada) didn't raise the rates it was taken as a signal to many waiting on the sidelines that the increases were over. Upon a second time of maintaining the same level it attracted the second wave of purchasers back into the purchasing pool behind the early adopters. This has caused the effects of basic supply and demand to take hold as multiple purchasers vie for the significantly low number of properties that are currently listed on the market. Traditionally the market slows down in the summer months starting in June, so we will see if some purchasers go back to the sidelines as children are out of school and people go on vacations, which MAY ease up on the pressure for purchasing.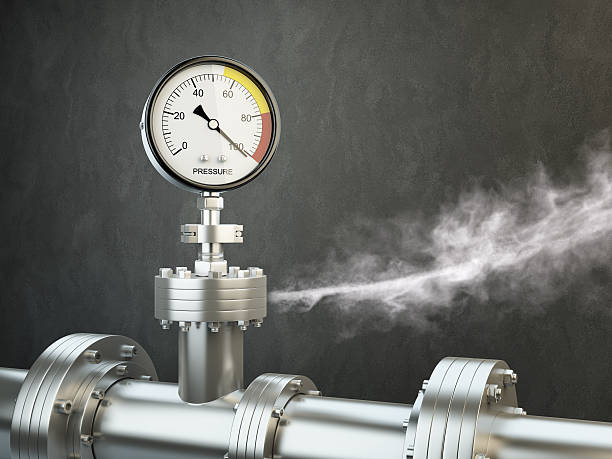 If you are thinking about making a move in this transitioning market, please feel free to contact me via phone at 604-522-4777 or e-mail directly at:
haze@hazerealty.com
or join us at our Facebook Page (
www.facebook.com/HazeRealty
) and I would be happy to help go over some facts and figures to help you make the most educated decision for you needs.
(Source: 
https://members.rebgv.org/news/REBGV-Stats-Pkg-Apr-2023.pdf
)