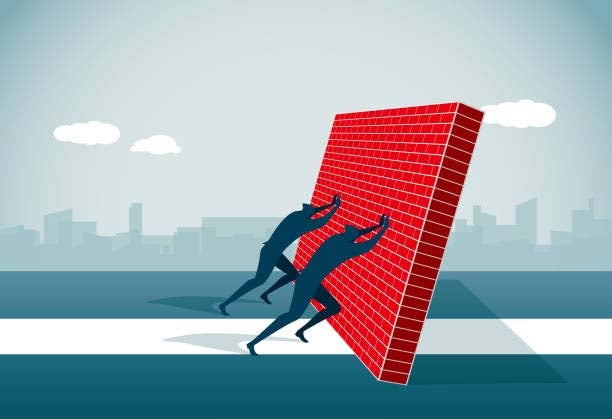 The prices of homes across all home types in Metro Vancouver rose yet again in July; as strong sales meet the tides of low inventory.

The Real Estate Board of Greater Vancouver has reported that there was a total of 2,455 homes sold in July, which is a 28.9% increase from July of last year and is 15.6% lower than the 10-year seasonal average.
"
While sales remain about 15 per cent below the ten-year average, they are also up about 30 per cent year-over-year, which is not insignificant
," Andrew Lis, REBGV's director of economics and data analytics said. "
Looking under the hood of these figures, it's easy to see why sales are posting such a large year-over-year percentage increase. Last July marked the point when the Bank of Canada announced their 'super-sized' increase to the policy rate of one full per cent, catching buyers and sellers off guard, and putting a chill on market activity at that time.
"

There were 4,649 newly listed properties across all types (detached, attached and apartment/condo) listed on the MLS system in Metro Vancouver in July of 2023. This is a 17% increase year over year from 2022 and 5.2% below the 10-year seasonal average.

The total number of active listings currently listed on the MLS system is 10,301. This represents a 4% decrease from July 2022 and is 14.4% below the 10-year seasonal average.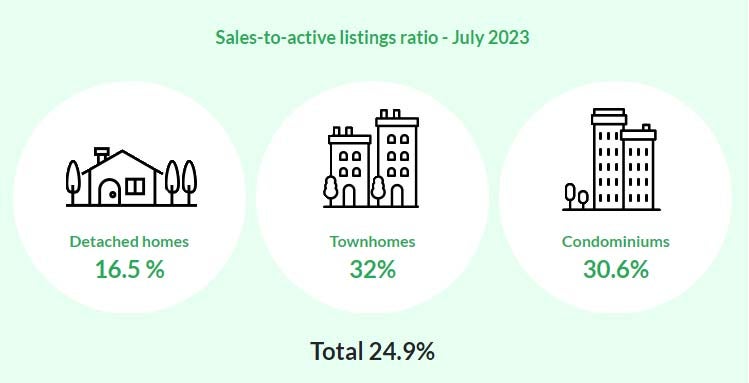 The sales-to-active listings ratio for all property types combined in July 2023 is 24.9% and breaks down by type as follows:

Detached: 16.5%
Attached: 32%
Apartment: 30.6%
 
Analysts generally state that downward pressure on home prices occurs when the sales-to-active ratio moves below 12% for a sustained period, while prices of homes will often have upward pressure when it surpasses 20% over a sustained period.
"
What's interesting to see in the current market environment is that, while the Bank of Canada rate hike this July was only a quarter of a per cent, mortgage rates are now at the highest levels we've seen in Canada in over ten years,
" Lis said. "
Yet despite borrowing costs being even higher than last July, sales activity surpassed the levels we saw last year, which I think says a lot about the strength of demand in our market and buyers' ability to adapt to and qualify for higher borrowing costs.
"


The composite benchmark price for all types of homes combines in Metro Vancouver sits at $1,210,700. This is a 0.5% increase from July 2022 and a 0.6% increase from June 2023.

There were 681 detached homes sold in July 2023; which is a 28.7% increase from July of last year. The benchmark price for a detached home is $2,012,900. This is a 0.6% increase from July 2022 and a 1.1% increase from June of this year.

The total amount of attached homes sold in July of this year was 466 which represents a 53.3% increase from the total in July 2022. The benchmark price for an attached him is $1,104,600 and is a 1.2% increase from July of last year and a 0.5% increase from June 2023.
1,281 apartments were sold in July 2023. This is a 20.7% increase from the total in July 2022 and reached a benchmark price of $771,600. This is a 2.6% increase from July of 2022 and a 0.6% increase from June 2023.
THE TAKEAWAY:
We are starting to see the effect of the Bank of Canada's (BoC) perpetual interest rate increases. The next time they meet will be on September 7th, 2023 and will likely dictate how the fall market will look. Those that have been riding it out on a variable mortgage have seen a whopping increase of 306% since July 2021. Many have locked in and those that have not are hoping to ride this wave back down when the rates (hopefully) start dropping.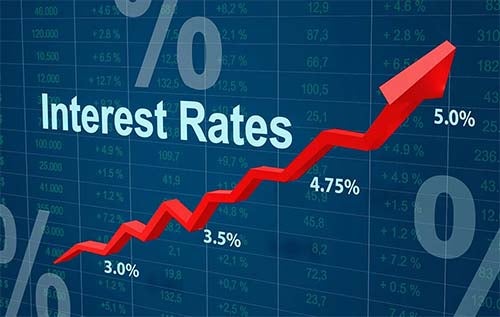 While these increases from the BoC will have a downward effect on pricing, it will come at the cost of lowering purchaser's buying power. We will see more of this effect as time carries on, as those with rate freezes will expire and thus have to qualify at a higher %. We have now reached the highest rates that Canada has seen in 10 years and is getting to be in many cases higher than the stress test that was brought in for all mortgages in 2018. This would lead me to believe that we are getting to the top of the rate increases as any higher and the banks will be looking at a significantly higher chance of more defaults, which would be bad for their business.
Is this "take away" all doom and gloom? Nah, there are still some opportunities for those that are still liquid and can get into the market as they will be able to purchase a home at a lower price, rise out this high interest rate for a few years and then enjoy lower ones in the future with a place that was bought cheaper than previous years. Unfortunately this all will be putting a heavier squeeze on first-time buyers as the level for their benefits is stuck at $525,000 which is far too low for entry level homes in our current market; but that is a totally different ball of wax.
If you would like to have to some real world advice about how to navigate this shifting market feel free to reach out to me at 604-522-4777 or e-mail directly at:
haze@hazerealty.com
or join us at our Facebook Page (
www.facebook.com/HazeRealty
) and we see what the best move can be. (This might be staying still for right now!)
(Source:
https://www.rebgv.org/market-watch/monthly-market-report/july-2023.html
)